murder
Submitted by Suzi Steffen on Fri, 11/20/2009 - 14:48
Today is the National Transgender Day of Remembrance, and if there's one thing I regret about having had a plague cough/virus for a week and a half, it's not having had the time/energy to write about this week of events. There were movies, meetings and talks, and damned if I didn't sit on my couch coughing my way through all of them. Hope some of you got out for them!
The culmination comes tonight in the Atrium Building, where I may be (though the plague's not entirely over):



From the City of Eugene's website
Why do we have a Trans Day of Remembrance? Well, it's because there's an awful lot of violence against trans people. There's an awful lot of gender-policing out there that means real, sustained, horrific violence against people who don't meet some culturally imposed and totally fucked idea about gender norms.
One estimate says about 160 people were murdered this year. And that's a lowball, says the report, from Transgender Europe:
Yet, we know, even these high numbers are only a fraction of the real figures. The truth is much worse. These are only the reported cases which could be found through internet research. There is no formal data and it is impossible to estimate the numbers of unreported cases.
And that's not all. Today, a young trans person writes at Feministing about suicide rates among trans folks. This is such a painful reminder that just living in this world is an everyday hell for many people.
Before I moved to Eugene, I used to do a lot more activist work, including running a fair number of groups at the Women's Resource and Action Center at the U of Iowa. The main group I ran was called The Gender Puzzle. We used Kate Bornstein's funny, smart My Gender Workbook to talk and write about everything from the gender police to the difference between gender and biological sex. I met a lot of people who identified as gender-queer, young straight women who simply wanted to investigate what the heck gender was supposed to mean to them, and, of course, trans folks. Some people were barely beginning to explore their transitions from male to female or female to male, and it was such a privilege to know them, to learn that a Mary Kay consultant might be a transwoman's resource while a young transman could get support from his family to be his real self.
At the time, I was a columnist for the UI's Daily Iowan. I remembered how hard the winter holidays were for me with my family as I was coming out as a lesbian, and I knew they'd be harder on some of my trans friends. Some were parents; some had to go home to their parents; some were staying away from home so they didn't have to deal with telling their families who they were. Some had very religious families with people who rejected them out of hand. Some were told how wrong they were. And that filled me with massive fury — come on, they were the bravest people I knew! They survived long years living in bodies that didn't feel like their own. They survived. So I wrote a column — one of those things that just pours out of you, feels like it was almost written for you — that ran in the DI on Dec. 1, 2000. I know this is all braggy, but to my mind, it's the best thing I've ever written. I mean, FUCK THE GENDER POLICE and all, but this wasn't for them — it was for the people I loved.
The DI doesn't keep online archives back that far (for no reason that I can tell), but luckily it was reposted (heh, without my permission, but so what? It benefitted me!) in its entirety a couple of other places, like here.
And now here, after the jump.
Submitted by Suzi Steffen on Wed, 11/19/2008 - 11:09
The review of West Moon Street comes out tomorrow in the paper. I should note that this paper was massively squished for space, and I didn't have nearly the room I wanted to talk about class issues and specific actors (more on that when I have time, maybe Thursday, but kind of doubtful given the Gift Guide schedule):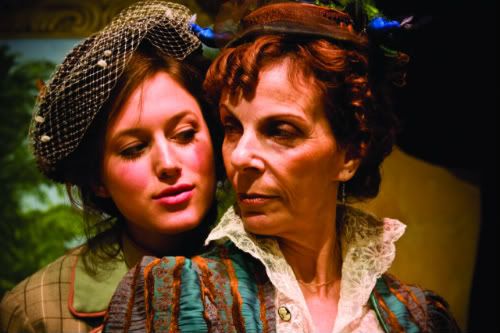 Sybil Merton (Sarah Adler) and Lady Windemere (Rebecca Nachison) in the Lord Leebrick's West Moon Street. Photo by Gretchen Drew.
Of Fakes, Frauds, Marriage and Murder
In the Leebrick's lagniappe lurk lightness and laughter
by Suzi Steffen
Relax into the ridiculous. With economic news straining emotions on the outside, West Moon Street, a farce at the Lord Leebrick, makes for a pleasant diversion.
No, it's not quite meaningful, and the second act doesn't hold up well (pacing may improve as the play continues its run), but so what? When the outside world turns grim, communal laughter provides warmth: Opening weekend sold out.
The script, adapted and revised by UO alum Rob Urbinati from an Oscar Wilde short story, hints at larger issues while capturing Wilde's offhand tone. Some actors play this humor with uncanny apititude — Rebecca Nachison stands out as the arch Lady Windemere — while a few others need to work on capturing the spirit of the affair. Steen Mitchell's gorgeous set and Sarah Gahagan's nicely fussy costumes provide striking visuals as backdrops to the mostly capable cast.
The larger issues remain submerged but clear. In Wilde's story and in Urbinati's play, the main character must commit murder in order to deal with marriage. As those in committed relationships know, most humans require a kind of self-maiming, a loppping off of personality, to please partners (or society). Oscar Wilde certainly understood that. In West Moon Street, murder becomes an external task on the long checklist that precedes a wedding.
Then there's the issue of spiritualism. In the late 19th century, depicted here, palm-readers (Daniel Borson as Mr. Podgers) and other snake-oil peddlers fooled wealthy Victorians out of their money, and sometimes, out of their minds. The Oxford-educated Lord Arthur, whom the voraciously queeny Lady Windemere desires for her collection of lovers, enlists his butler (Larry Brown) for aid in following Podgers' prophecy: Lord Arthur must commit murder before he may marry.
When his elderly relative Lady Clem (Laura Robinson-Thomas) dies of natural causes instead of the poison he administers, Lord Arthur postpones his nuptials with Sybil Merton (the focused Sarah Adler). A subplot involving anarchist Herr Winkelkopf (Greg Gumbs, amusing even as he wanders between accents) and archbishop's daughter Jane Percy (Zoe Grobart) needs tighter pacing at its denouement, as does much of the second act. Yet eventually, the deed is done — and delicious deceits are revealed.
Coherent West Moon Street is not, but those looking for laughs will want to see Nachison, Grobart and Robinson-Thomas strut their stuff on the silly, pretty stage.
**
West Moon Street runs through Dec. 6 at the Lord Leebrick Theatre. Tix at www.lordleebrick.com or 465-1506.
Submitted by Suzi Steffen on Mon, 11/05/2007 - 13:38
OK, as I established in a previous blog post, this review sucked (the opera didn't, but the review did).
I didn't rewrite it, dealing with the fact that, yes, my students will someday be pleased to see that I need just as much revision as they do (only my problems are complex/compound/with frills sentences, not comma splices, but that's a different story). Oh, and I buried my lead. Where? The end of the story, of course. That's where leads often go to their graves.
The review of Handel's Agrippina, a lovely libretto about incest, infighting, regicide and the competition for a courtesan's hand, comes after the jump.
But you know what really kills me? I spent time writing headlines. After all, that's one thing copy editors usually do. And I think they're good. In all three writing workshops, NOT ONE WORD about my cleverness!
Oh, the humanity.