Carafe
Submitted by Molly Templeton on Thu, 02/04/2010 - 14:11
When I last lucked into tickets to the Oregon Truffle Festival's Grand Truffle Dinner, the event was still held at LCC. The dinner's current location at the Valley River Inn is a better-lit, more comfortable space that manages, despite its cavernousness, to feel a little more intimate. The floral arrangements, which rose from towering glass vases and drooped back down in green fronds, were a little over the top, but who's paying attention to the table decorations when a meal like this is on the way?
I barely had time to grab a small glass of the reception wine — Sweet Cheeks' sparkling red, which I want to try when I can pay it more attention — before we were finding our way to our table (to my amusement, VRI staff removed the table numbers shortly after most people were seated, which led me to envisioning lost attendees swiping plates from servers' hands in desperation. This did not appear to happen).
Let me be honest: I am not going to review the dinner so much as repeatedly point out, in 100 words per course, how rich and delicious it was. I was there to experience it, and the experience was, for the most part, delightful.
Also, it was a lot of food.
COURSE ONE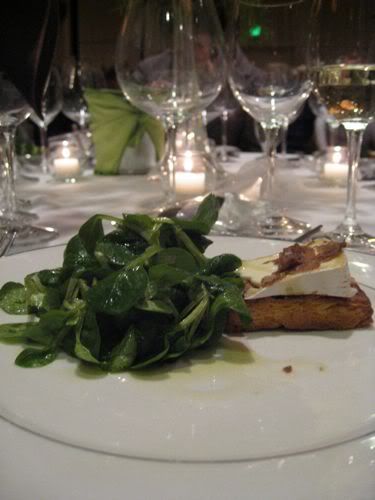 Crème Fraiche Tarts with Triple Cream, Shaved White Truffles & Mâche Salad with Black Truffle Vinaigrette
Chef Naomi Pomeroy, Beast