Bill Hulings
Submitted by Suzi Steffen on Tue, 08/03/2010 - 14:41
It just occurred to me that one of the two remaining performances of the The Oregon Festival of American Music's Kiss Me, Kate is Wednesday, Aug. 4, and the paper doesn't come out until Thursday, Aug. 5. I liked the show. Go see it. Here's my review, adapted from what will be out on Thursday:


The cast members of The Taming of the Shrew, the play-within-the-play of Kiss Me, Kate. Courtesy OFAM
Humming Away at the Hult
Kiss Me, Kate's a Porter gem
by Suzi Steffen

I'm an earworm magnet, but even by my standards, Kiss Me, Kate's a humdinger.
For a few days, it was "Another Op'nin', Another Show" (sung handily at OFAM's production by the excellent recent UO grad Kathleen Leary and the company), set to the rhythm of wheels on the river path. Then I had to hear "Wunderbar" — which should be banned somehow; after all, the very point of the song is how bad and conventional it was in the show during which Fred Graham (Bill Hulings) and Lilli Vanessi (Shirley Andress) met — over and over in my head. I think I even dreamt about it.
Read the rest after the jump!
Submitted by Suzi Steffen on Mon, 12/07/2009 - 17:21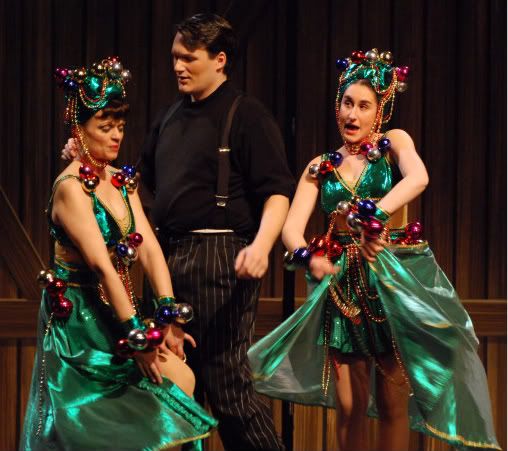 Image courtesy The Shedd
Not Holidazed
The Shedd's White Christmas works its pearl-buttoned magic

by Anna Grace

Settling in to watch my second White Christmas production in as many weeks, I prepared for another few hours of Irving Berlin favorites and Magic 94.5-style entertainment. That crazy team of hoofers and crooners would follow a sister act up to Vermont all over again, dropping hit songs and one-liners as they went. I expected to be entertained, but not moved. I was surprised.

The Shedd's production of White Christmas is among most beautiful musicals I've seen in Eugene. The set is lovely, interesting while simple. Costumes are stunning. Music director and conductor Vicki Brahbahm masterfully handles the magical score; director and choreographer Richard Jessup delights with a string of song and dance numbers that made me want to jump up and yell "Again! Do it again!"

Read more after the jump!