Gina Ochsner
Submitted by Molly Templeton on Mon, 11/09/2009 - 17:22
My colleague Suzi Steffen and I have long disagreed about which Scott Westerfeld series is better. Suzi votes for his Midnighters books, about a group of teens in Bixby, Okla., who are awake for midnight's magic hour, when clocks freeze but those born at midnight can move freely (if warily; strange things lurk in the midnight hour). I'm for the series that starts with Uglies and is set in a distant (and distantly post-apocalyptic) future in which everyone has an operation, at the age of 16, that turns them gorgeous — and idiotic.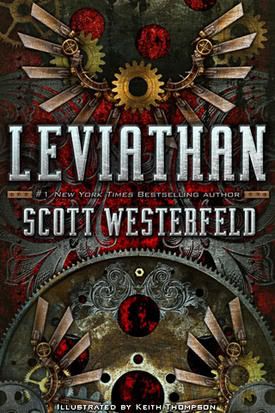 The question might be moot, now. Westerfeld's latest, Leviathan, is the first of a series — and you'd do well to know that going in, as nothing on the cover suggests that it's not a standalone. Leviathan takes place in a world where things went a little differently around Darwin's time. In England, he discovered DNA and figured out how to play with the threads of life, crossbreeding creatures and developing a biology-based military. England is Darwinist, but on the continent, the Clankers have control; in Austria-Hungariy and Germany, people travel in many-legged machines and rely on engines and guns for their defenses. And, of course, their offenses, which quickly come into play when a certain duke is murdered.
Leviathan is a ripping yarn, a classic-feeling adventure story that never forgets that its characters are trucking about their days precariously close to death. In Austria, Alek, the (fictional) young son of Archduke Ferdinand, is on the run from his own countrymen after the murder of his parents; he's tearing across the continent in a walker, putting his own hours of training (at walker-driving, swordplay and the like) into immediate and dangerous practice. In England, a young Scot by the name of Deryn Sharp is also in hiding, but right out in the open: She's joined the military (disguised as a boy, of course; this is alternate history, but some things are just the same) and found a place on the Leviathan, a great beastie of an airship that's part zeppelin and part whale. Bees, bats, hawks, glowworms, hydrogen sniffers and humans are just some of the creatures that are part of the Leviathan's floating ecosystem.