Art Intern
Submitted by Suzi Steffen on Fri, 10/16/2009 - 15:35
Local Artists Open Up
By Natalie Miller
Since taking on the intern tradition of visiting the local art galleries, I have been amazed to learn about the skills involved in creating the works of art, gracing the walls of Eugene. And now to image the idea of having the opportunity to visit the origins of some of these creations excites me even more. Once again, DIVA (Downtown Initiative for the Visual Arts) is offering Eugene an opportunity to view a number of local artists' studios through the DIVA Studio Tour. The tour includes 32 local artists of varied mediums, from metal, pottery, photography, oil paints and charcoals to pastels, just to name a few.

This year's tour will be a first for many of the artists participating. The fundraiser, along with exposing the public to Eugene's many artists, allows the artists to become more deeply rooted in the local art scene.
One of the first year participants is metal artist Ryan Beard, who became involved in the tour after being approached by DIVA. Born and raised in Eugene, Beard developed an interest for working with raw materials, such as steel and copper after being inspired by his father, Ray Beard. After his father retired and built his own shop, Ryan started helping his father as he experimented with welding. Helping around the shop, Ryan learned how to work with metals. Now father and son work closely together, building metal sculptures perfect for a backyard setting.
Although Ryan says his pieces are mainly designed for the outdoors, such as an accent piece for a garden, his work can also be enjoyed inside. And just as most of his pieces are made to endure the elements, Ryan says that much of his inspiration comes from nature and the materials he uses. "Everything comes back to the outdoors," says Beard. "And the sculpture can compliment or contrast that." Many of the sculptures he makes combine organic forms such as curves and circles. However, he also designs pieces with stark straight lines that stand out against nature. To further define his style, Beard says he tries to make big pieces out of welding many small things together.
For the Studio Tour, Beard will not only be showing his work, but also showing tour-goers how his pieces are made. Beard says that welding is a process that many people don't understand or are unfamiliar with. And by opening his workspace to the community, Beard hopes to unravel the mystery of how his pieces all come together – and not just the artistic side, but also the nuts and bolts of welding. For those who visit Beard's studio and who want to watch him in action, Beard will supply welding masks. And after watching Beard weld, visitors can view finished pieces located around his 30-acre property, surrounding his workspace near Marcola road.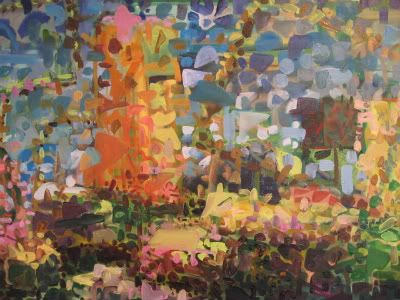 Another artist, participating in the DIVA Studio Tour is photographer Scott Huette. However, this is not the first time he has opened his home-based studio in south Eugene; interested viewers can schedule an appointment to see his work. Huette also shares his studio space with his artistic partner, Sisy Anderson, who will also be participating in the studio tour. "My studio space helps me with my creativity by allowing me to withdraw from other aspects of my life," Huette says. "It provides a space in which to focus specifically on my creative pursuits."
Huette first fell in love with photography after seeing his grandfather's photos from trips around the world. He later went on to receive a Bachelor of Fine Arts from Ohio University and his Masters from the Arts and Administration program at UO. In his photography, Huette focuses on mixing the technology of the 21st century with the 19th century alternative photographic printing process, while shooting mainly images of landscapes and portraits. "The beauty and wonder of nature, the mythic qualities of light and the Zen aesthetics of wabi (solitude), sabi (the basic), aware (feeling of nostalgia), and yugen (the mystical) are at the heart of my photographs," says Huette.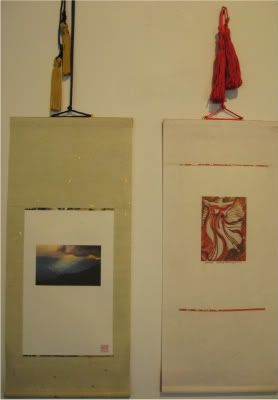 Located a little further south, in Cottage Grove, is DIVA artist Joan Milligan. As a painter, Milligan says her art mirrors her life's journey and personal transformation, describing her art as full and vibrant. But in between the time when she started drawing and painting as a child and where she is now, there seemed to be a large gray area – a time in which she stopped painting. Then in 2001, she says, "the year that science fiction made its imprint on the world as the year of exploding possibilities, I began to paint again."
Milligan compares her reawakening to the scene in The Wizard of Oz, when Dorothy steps out of her dreary Kansas home and into the lush colors of Oz. Now in the light of her new beginning, Milligan says that inspiration comes to her in different forms, "the things that move me to paint are sometimes kind of ugly in the literal world, but in the process of painting, they get transformed."
The artists participating in the DIVA Studio Tour are located in and all around Eugene, including Coburg, Bethel, Springfield, Cottage Grove and Cheshire. To step inside Eugene's growing art scene, pick up a ticket to the Studio Tour, downtown at DIVA. The tour costs $15 and is self-guided. And if you can't make it this weekend, Oct. 17-18, the artists will open their studios again Oct. 24-25 as well.
DIVA (Downtown Initiative for the Visual Arts), 110 Broadway, Eugene
Submitted by Suzi Steffen on Tue, 09/15/2009 - 14:40
Recycle, Reuse, Recreate
By Natalie Miller
Filled with bins of old maps, broken glass, beer caps, and many other recycled art supplies, M.E.C.C.A. (Materials Exchange Center for Community Arts), at first glance, seems more like an artist's playground than an art gallery. But amongst the tubs of soon-to-be art projects sits M.E.C.C.A.'s current exhibit, known as the "Object Afterlife Art Challenge." The display is a collaboration of 38 local artists who in June signed up to compete in a challenge that would bring the world of fine art and scrap art together, mixing mediums and ideas.

At the beginning of the challenge, M.E.C.C.A. gave participants limited materials to start their projects. From there, the artists had two months and the liberty to add any other recycled material to their venture. The pieces are now finished and have already been on display at the Eugene Celebration, but there is yet to be a winner. First the public must decide; it's viewers' choice. The pieces will then be moved again and shown at BRING gallery.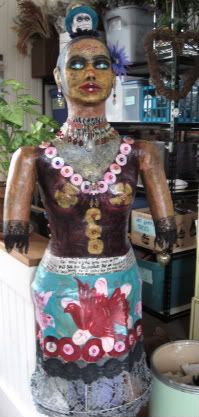 Seemingly hovering over M.E.C.C.A.'s studio space is mixed media artist Ellen Furstner's finished project. Initially given bike wire and a clear plastic flat mannequin, Furstner transformed her basic materials into the figure of a woman, wearing a crown of apples and the world as her belly.




Fellow participant Sue Hunnell received fewer materials. Two months later and her initial roll of blue bubble wrap stands roughly three feet tall, greeting M.E.C.C.A.'s customers as a Goldfish cracker holding mermaid. And although you may want to eat one, the mermaid is complete with a sign asking that you refrain.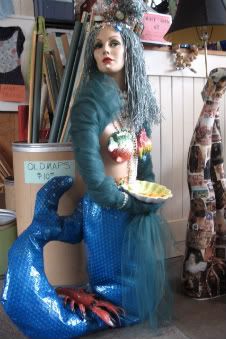 Most of the initial materials given to the artists are now unrecognizable, having been incorporated into larger pieces of art. To help appreciate the artists' creativity, M.E.C.C.A. has put together a book, detailing what was given to each artist and what became of those materials.


The exhibit isn't the only thing new at M.E.C.C.A. They've moved. The art gallery/artists' workspace is now located in the yellow building next to the train station at 449 Willamette Street.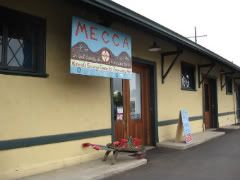 The new location has enough space to include an art studio open to the community, a teacher resource room with free materials available to teachers, lockers to store unfinished projects and a classroom for the Network Charter School. The next time you stop by, check around the house prior for any scraps or potential art supplies you can donate – the people at M.E.C.C.A. will appreciate your generosity.