Chicago
Submitted by Suzi Steffen on Wed, 08/12/2009 - 16:51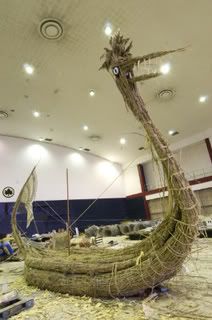 Bird boat image courtesy Queens Museum
Where Twitter has led me today, in the art world, anyway:
1. Most Charming Idea for Inter-Museum Competition
UPDATE! New photos from @queensmuseum! Also, the Wall Street Journal wrote about the match!
Brooklyn Museum fighters! CC license (plus they gave me permission anyway;-) )
I don't quite know how to describe this, but @queensmuseum is hosting a ... um, a naval battle. Yes, a naval battle, with various museums (@brooklynmuseum, @bronxmusuem and @elmuseo Del Barrio [they don't really Tweet yet; their website]) duking it out ... and when I say duking, I mean Duke Riley-ing it out. Riley is the Queens Museum's artist in residence, and he created this ... event ... called Those Who Are About to Die Salute You.

Preparation! Courtesy Queens Museum
Some stuff from the description on the website:
A battle on water wielded with baguette swords and watermelon cannon balls by New York's art dignitaries will take place on Thursday, August 13, 2009 at 6 pm in a flooded World's Fair-era reflecting pool in Flushing Meadows Corona Park, just outside of the Queens Museum of Art. Various types of vessels have been designed and constructed by artist provocateur Duke Riley and his collaborators: the galleons, some made of reeds harvested in the park, will be used to stage a citywide battle of the art museums in which representatives from the Queens Museum of Art, the Brooklyn Museum, Bronx Museum of the Arts, and El Museo del Barrio will battle before a toga-clad crowd of frenzied onlookers. The event is free and open to public. Dress code: Toga. Live music by Hell-Bent Hooker. Beverages will be served.
Museums from everywhere, including of course @metmuseum, Tweeted about it all day long. There are blog posts ("The folks from conservation are looking into building a corvus similar to those used during the First Punic War."), total trash-talking on Twitter (link is here, but you can also just do your own following with the hashtag #dukeriley), and @artverse is planning live coverage for those of us on the West Coast who can't quite make it to Queens tomorrow evening (3 pm for us). I am so looking forward to this.