TheatreFace
Submitted by Suzi Steffen on Sat, 08/01/2009 - 11:54
Hey y'all! Back in April, I was asked to write several blog posts about the Oregon Shakespeare Festival for a newish theater-community website called TheatreFace. For the first post, I interviewed the director of the play I'm going to see this afternoon. (I've seen Much Ado About Nothing, Equivocation and Henry VIII so far! Three more to go ... ). With permission, here's the reprint (repost?) of the blog post from April. — Suzi
Truffaldino (Mark Bedard) decides to take a break, thinking it may help keep him out of trouble. Photo by Jenny Graham.
For this first post about the Oregon Shakespeare Festival, may I present director Tracy Young?
Young has worked at and with Yale Rep, Cornerstone Theatre and LATC, among many other credits. She's an award-winning director and playwright, and she is also most gracious on the phone. Last season at OSF, Young directed Breakfast, Lunch, Dinner.
This year, Young directed The Servant of Two Masters, a classic of Italian theater.
Carlo Goldoni's 1753 play, Young says, took commedia dell'arte characters and attempted to give them a structure, a formal story. But the story changes with every iteration, and this version — adapted by Young and Oded Gross from a translation by Beatrice Basso — is no different. Times are a bit tighter in Ashland than they have been for a while, so Young and Gross used that to their advantage in making Servant a true marker of this particular time and place. One reviewer wrote, "It is brilliant, and contains perhaps a hint of something beyond the laughs."
Young and I spoke by phone on the morning of April 3.
Good morning! So talk to me about this adaptation.
I was very interested in keeping with the commedia tradition. It always reflects the time and culture that it is being performed for. We thought about the biggest thing going on in our culture, [and that] is the crazy economic collapse of our country. Plus, the show's being performed at the Oregon Shakespeare Festival, and that's got its own culture and reference points.
Commedia troupes would travel from one town to the next, and depending on what was happening, they would find out what the gossip was and find a way to weave it into our stories. This season's other productions are referenced in there, and the OSF is having its own economic woes, so we thought that would be useful to place it within that context. So, we've got this frame that involves the actors in an acting troupe, an they are struggling to put on this production withing the framework of a budget crisis. The conceit is that this particular show has to re-use costumes and props from the OSF, that we can't afford newly designed items.
When you were adapting it last year, was the extent of the economic trouble clear?
I was up here last year in May, and the Fannie Mae and Freddie Mac collapse had happened, and the real estate meltdown was happening. I had just recently bought a house, my first home, in Las Vegas, and my husband and I were very familiar with the fact that Las Vegas had had a bubble and, well, you could find a house very cheaply. We were seeing the writing on the wall, and then Oded and I began working on the adaptation in earnest around October. The banking meltdown and the stock market downturn also happened around that time, and that was when OSF started having a sense of belt-tightening like everywhere else.
So how do you make comedy out of that?
I've always been very interested in the great way that limitation can actually produce exciting art. Crisis always offers certain kinds of opportunities, so I thought it would be interesting to have a sort of green ethos. Basically, I asked the designers to utilize materials already in existence at the OSF, which has a huge costume stock and prop inventory. I asked them to attempt to create all of the costumes for the show out of costume pieces already in existence, and it ended up being a very exciting and fun thing for the costume shop and people involved in that. This place has such a rich history, and the props, the costumes, they carry a wonderful energy, the stories of what this place is about.
[Costume Designer Christal Weatherly] made all of the costumes out of pieces already in existence and/or donations we got from different businesses in the Ashland area, and the prop items were the same way. We thought it would be really fun to only use props that already existed and find a way to incorporate them, sometimes to humorous effect.
The most famous piece in the play is this scene where Truffaldino tries to serve his two masters at once without either of them knowing. There are a lot of prop food items that go with this sequence. And we figured, we have to make these things out of things already on hand, like there's pasta made out of a big floppy mop head.
It was about having the process mirror the intent of the show, to work within this restrained budget, that forced us to find unexpected creative solutions to problems.

Director Tracy Young. Photo courtesy OSF.
It opened on March 25. How are you feeling about it?
It's been fun! The audiences have been responding well. The fun that we had in creating it is, I think, translating to the audience, which is nice. The biggest thing about commedia and this production at the OSF is the fact that in the commedia, the central relationship is from performer to audience member and back. The fourth wall doesn't exist in commedia; it's a direct experience that the performers are performing for an audience, a known and accepted idea within the framework, even in the sense that actors look directly at audience members when they are speaking.
In this production, we wanted to celebrate that central and essential relationship, centralized in role of commedia, which has obviously has been the central raison d'etre of OSF for nigh-on 75years. The audiences here, who they are and how they continue to come back here every year and invest this place with the spirit it has, is something we wanted to underscore. And there are pockets built into the show that still have a kind of opportunity for improvisation at every show, so sometimes different material comes out.
That must mean you trust the actors. You have David Kelly, Eileen DeSandre, Mark Bedard ...
I do! This is an extraordinary ensemble. The actors up here are very talented in general, and this particular ensemble … we had a very gratifying experience together, and I do trust them. They have great comedic sensibilites, and because of their own shared history, there's a trust there between all of them that lends itself to being able to play in a wide band, to swing wide at times and bring it back and keep it on track. That's fortunate when you work with a company that has a history like that. All of these folks are known to the audiences and have such a rapport with them. Even the newer folks who have been here for one to four seasons have the same kind of feeling of a kind of family unit.
What's it like directing this play in the New Theatre, with all of its opportunities for different configurations?
When I was first given the commission, [OSF Artistic Director] Bill Rauch had already decided within his season planning that production was going to be presented in the round, and I knew that from the beginning.
I have a lot of background in commedia and never have presented it in the round before because it's a seemingly incongruous pairing. It's traditionally performed in proscenium-esque setup, or at least a thrust. There are typically stylized ways that these characters move, present their bodies and faces that is a rigor unto itself — the actors and I went on a warp-speed process to learn these techniques. But in addition to that, trying to figure out how to adapt the particular physical configurations and ways of playing the commedia in a 360-degree presentation as opposed to a 2-D presentation was a very interesting challenge for me as a director. The commedia has these very particular characters. Each has his own physical life and characteristics that the actor will take on and make their own, but the way they stand and talk to each other, it's all got its own little language, so we've done some interesting things for anyone who is familiar with techniques of commedia. I think they'll find what we've done interesting and surprising.
Richard Hay, whom I was so thrilled to have the opportunity to work with in the theater that he designed, was such a great, very fun collaborator. For me, he provided a sort of layer of how to bring the culture and the history of this place into this production. He holds and carries so much of that energy in his own work and presence here. And the set incorporates some painting images of some of his past designs.
In a funny way, of all the configurations that you can have for a play [in the New Theatre], you get the most present sense of the audience in the round. They look across the space and see other audience members, and actors are always close in proximity to audience members.
How did the history of Servant affect the adaptation?
The idea of a commedia play is a little bit of an oxymoron because the commedia was and is so heavily based on scenarios and improvisation as opposed to a play structure. Actors in commedia would have scenarios but not a specific way to present them from performance to performance. When Carlo Goldoni was asked by one of the more famous characters, who traditionally played Arrlechino, to structure it into a play form, this was after-the-fact attempt to capture these piece in a play form.
So this is a narrative that serves more as a blueprint to help troupes with a road map, a certain kind of narrative. I think Goldoni would agree that the narrative is something the troupes can discover for themselves on the journey.
For the process of adaptation, we agreed early on that it would be useful and necessary to have a script with lazzi built in. There are many of those already built into the text, so we would predetermine how action would proceed, dialogue, structure of how story and how the humorous lazzi would go, so we nailed down a lot of it in the writing.
This particular rehearsal slot is the shortest one in length of any of the 11 productions that they do here, and I had never worked with any of these actors so far. We needed to figure out our own ways of working toegther, and in addition none of these actors had performed in the commedia style before. We had a long way to come in a very short time, so we knew we had a strong foundation from which to play. There's lots of it created specifically from actor interaction in rehearsal, but that came about in addition to predetermined stuff we had already come up with. It kind of marries and mirrors the Goldoni tradition in that way.
OSF is known as a very text-driven company that has the facility and ability to really work and explore a text very effectively. There's a wonderful literary department, who were just instrumental with Oded and me, giving us support and feedback and great insight from the moment that we began working on the commission all the way through to the week before we opened, when we were still shaping the script and making changes.
Obviously, there's a relationship to Shakespeare's comedies, some sort of reflection that audiences should recognize.
It's a nice resonance that happens. Of course, there's mistaken identity, so present in Shakespeare's work, which is a component often in the commedia. The commedia characters are based on archetypes, and because of that the characters — the servants, the miserly older man, the master, the lusty wench servant girl — they're all characters that Shakespeare drew on. You can see them now in sitcoms, in The Simpsons, in I Love Lucy. They are as universal and as fresh today as they were when theater sort of began. There's something eternal about these particular archetypes that resonates from culture to culture. I think audiences recognize these characters in any aspect of contemporary culture, and that's a part of what makes them human and fun.
***
Below, a snippet of Young talking about Servant, from YouTube.
Submitted by Suzi Steffen on Tue, 04/07/2009 - 11:56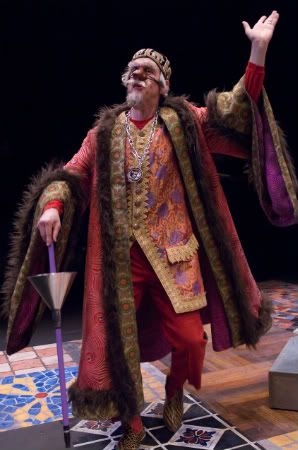 Pantalone (David Kelly) is overjoyed at the prospect of receiving more gold during The Servant of Two Masters at the Oregon Shakespeare Festival. Photo by Jenny Graham.
Yo, OSF-lovers!
I've been asked to blog this week at Stage Directions Magazine's new online theater community, TheatreFace, about the Oregon Shakespeare Festival and Oregon theater in general.
If you're a theater person, you might want to join TheatreFace; it's free and, I think especially for designers, hooks you into an international community. You can add photos and have your own blog, join groups and more. If you're interested, join here. (Nope, I'm not getting paid to shill for TheatreFace, though I am getting paid a bit to blog for 'em this week.)
If that's not your thing, however, you can also check out the posts when I repost 'em here this weekend (when the exclusive time on TheatreFace is up).
My first post was a Q&A with Tracy Young, the director of the just-opened Servant of Two Masters. A YouTube clip of Young talking about it is below.