Lord Leebrick Theatre
Submitted by Suzi Steffen on Fri, 05/07/2010 - 07:24
Got this press release from the Lord Leebrick Theatre late last night. Exciting news! Congrats to Craig Willis and Gretchen Drew! (I'll find out more later today, I hope.)
Lord Leebrick Theatre Company Chosen As One of Twenty Professional Theatres From Across the Nation to Participate In 2010 TCG/American Express Leadership Boot Camp.

Eugene, OR— Lord Leebrick Theatre Company's Artistic Director, Craig Willis, and Production Manager, Gretchen Drew, were selected as one of only twenty teams to participate in the 2010 Leadership Boot Camp sponsored by Theatre Communications Group (TCG) and American Express. Willis and Drew will join 38 other leaders from professional theatres across the United States for a two day intensive workshop in Chicago, IL.
The Boot Camp brings together pairs of leaders (an established leader and an emerging leader) from 20 theatres. Developed and led by the Center for Creative Leadership, the goal is to foster intergenerational dialogue, explore effective methods of communication, increase participants' self awareness and align vision with strategy.
The selection process was very competitive with only 20 team slots available but over 60 theatres interested in attending. Participants were chosen based on the strength of applicants' essays and on creating a "classroom" that was representative of the diversity of TCG's membership in every conceivable way—budget size, genre of work, geographic location, cultural identification, etc.
"It was an honor to be chosen," said Willis. "We will be working alongside some of the biggest names in our industry." Notable participants include teams from theatres with national and international reputations, including: Yale Repertory Theatre, New York Theatre Workshop, Oregon Shakespeare Theatre, Atlanta's Alliance Theatre, Los Angeles' Cornerstone Theatre, and New York's HERE Arts Center.
All expenses, including travel and lodging, for this two day workshop are covered by its corporate sponsor, American Express.
Submitted by Suzi Steffen on Fri, 04/02/2010 - 13:19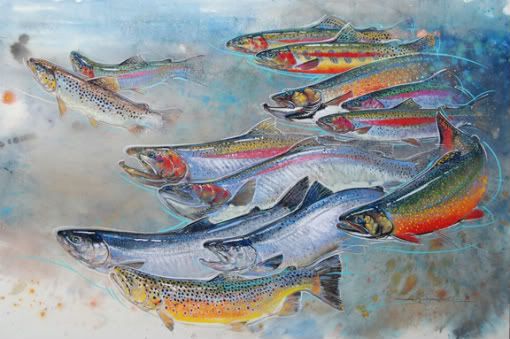 Dan Chen's Living River I won first prize at the juried show at the Jacobs Gallery
So I made plans to go to a Pesach seder at a friend's house tonight, and it kind of starts right when First Friday Art Walk starts. But if I were going to the Art Walk, here are the things I would VERY MUCH not miss:

1. The Art Walk, at least briefly. I mean, what can trump wine-sipping hordes of Eugeneans downtown? I always see Arts Administration students, theater community peeps from the UO and elsewhere, artists, art lovers and just a TON of other people on the Art Walk. Tonight, Storm Kennedy leads the tour, which begins at Imagine Gallery and stops at a few other places before concluding at the new home (194 W. Broadway) of the Lord Leebrick, where you can see plans for the building and more.

2. Sometimes it's nice to move away from the crowd. If you do that, DEFINITELY hit up The Lord Leebrick before the masses descend. Downtown needs this kind of arts anchor (and can I hope for a decent espresso shop in the new lobby at some point? Kind of like the fabulous café/coffeeshop in the lobby of Portland Center Stage's Gerding Theater at the old Armory?) and constant flow of non-aggro, non-hustling, mentally stable folks. Yay Leebrick! (But sad that the fabulous DIVA and the theater couldn't work out terms for the space currently occupied by DIVA. I do so look forward to DIVA's shows — tonight, stop by for these new exhibits!.)

3. At the Jacobs Gallery, the Living River Exhibit, a McKenzie River Trust-sponsored juried show with a ton of great local and other artists (and a lot of events throughout the month, including artist insight talks today and tomorrow at 4:30 pm see Comment from Liz Lawrence (I must have misread a press release from the Jacobs)).



Art by Shel Neal from MECCA's "More than Words: The Book as Art" "Art of the Book" (oops! The second one is the title of a show at the J-Schnitz, duh) exhibit

4. At MECCA (the Materials Exchange Center for Community Arts), More than Words: The Book as Art exhibit! Check MECCA out on Facebook, by the way.
5. The Eugene Arts Collective's First Friday ART PARTY/Fundraiser/Awareness raiser! Starts at 9 pm, $5 a pop, live music, for a really fantastic cause, in my not-so-humble-want-Eugene-to-support-lots-of-artists opinion.
BONUS SIXTH AND SEVENTH THINGS NOT TO MISS:
• The Eugene Storefront Art Project's David P. Miller installation at 857 Willamette!
• Ethos Magazine's Silent Auction at the David Minor Theater!
If you go, and you take photos and tweet, please mark them with the hashtag #ArtRovers! (Or even if you only tweet your impressions of what's going on. I'm sad to be missing most of this! But it's worth it for a seder, of course ... )
Submitted by Suzi Steffen on Wed, 03/18/2009 - 12:41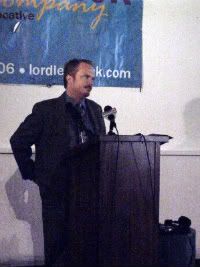 The press conference for the Lord Leebrick announcement is about to begin. I can see Leebrick board pres Don Van Houten, actors Rebecca Nachison & Paul Calandrino and director Carol Horne Dennis. Here comes the Leebrick's artistic director, Craig Willis (that's Willis in the photo.*).
Updates as we go on after the jump.