Jack Watson
Submitted by Suzi Steffen on Tue, 04/20/2010 - 09:30


Miles O'Malley (Colin Lawrence) and two cult members (Aloura DiGiallonardo and Stephanie Morgan) look at some sea life. Photo by Ariel Ogden


Sea Life, Earthy and Full of Fire
UO cast rides The Highest Tide
by Suzi Steffen

At almost every turn, The Highest Tide surprises and delights its audience. A coming of age tale that resembles The Catcher in the Rye not in the slightest, Tide works the mind and heart with honesty and acknowledgement of life's salty mix of joy and bitterness.

That's thanks to book author Jim Lynch, book-to-play adapter Jane Jones of Book-It Repertory Theatre in Seattle and the actors and director of University Theatre's fine production. Director Bobby Vrtis pulls excellent performances from several of his cast members and keeps the action, even in this told-in-the-past-tense play, moving along.

Like strands of kelp intertwined on the beach, threads and themes braid through the story. Science, religion and belief, desire, loss and love form a potent brew, and the play demands a large, flexible cast — something much more manageable in a university than a professional theater.

(Read the rest after the jump!)
Submitted by Suzi Steffen on Wed, 03/04/2009 - 07:54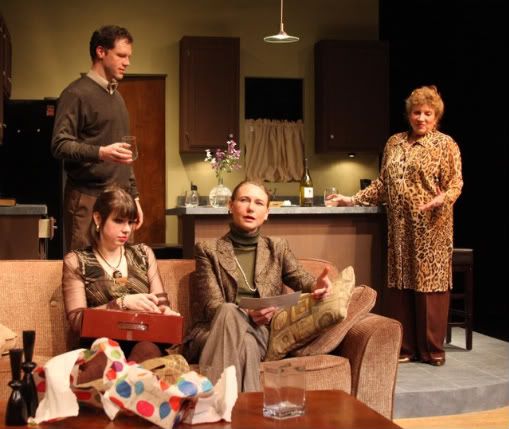 Howie (Timothy Mcintosh), Izzie (Michelle Nordella), Becca (Mary Buss) and Nat (Sparky Roberts) in Rabbit Hole at the Lord Leebrick. Photo by Craig Willis.

Two plays, two days, but just one review. Such is the nature of print right now. I'm popping this online before the paper goes to print ... but more of my thoughts on the plays will follow in a separate post.
Nothing Gold Can Stay
Love, loss and the appeal of the forest at local theaters
by Suzi Steffen

This weekend, head to the theater.

(More after the jump!)
Submitted by Suzi Steffen on Mon, 03/02/2009 - 09:22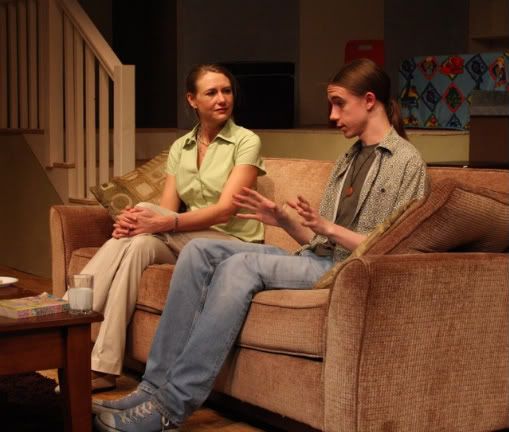 Becca (Mary Buss) listens to Jason (Patrick Curzon) in the Lord Leebrick's Rabbit Hole. Photo by Craig Willis.
Theater reviewers/critics (interesting post from The Dallas Observer's Elaine Liner about what she sees as the differences between critics and reviewers) often get to have weekends filled with theatrical fun.*
Last weekend, I saw (and reviewed, along with former calendar editor Chuck Adams) four plays at The Oregon Shakespeare Festival, which was tremendous fun, even when I didn't love the plays.
Celia (Brittany C. Bilyeu), Touchstone (Chip Sherman) and Rosalind (Sydney Behrends) in the UO's As You Like It.

This weekend, I attended the opening of Rabbit Hole at the Lord Leebrick Theatre on Friday and the second night of As You Like It at the UO Theatre Dept's new black box Hope Theatre (I'd link to photos of the new space, but they're not up at the UO's website yet).

Reviews coming soon to a blog and print edition near you. The Leebrick production made me laugh and cry and wonder what the same storyline would be like if it weren't set in wealthy upstate NY. One of the actors was incredibly skilled, and the others made valiant attempts to measure up.

The UO production made me laugh, roll my eyes, snort in disbelief and wish that the director and cast had made the gender-bending play a whole lot sexier. But the students really did a great job owning the language and making the story modern.

If you're looking for something to do next weekend, you could definitely do worse than buying tix for either of these plays. Show dates for Rabbit Hole are March 5-8, 12-15 & 19-21 while As You Like It runs March 5-8 & 12-14.

Tix for the Leebrick are available here. The UO sadly (and a bit ridiculously, though I think it's a university-wide thing and not at all the Theatre Dept's fault) doesn't have an online ticket-buying application yet, but call 346-4363 between 9 am and 5 pm weekdays for tix.
*And we also miss Friday night programming such as Joss Whedon's new show Dollhouse, but that's another story.