memoir
Submitted by Suzi Steffen on Thu, 03/04/2010 - 12:08
Annie (Asa Clevenger) and Grace Farrell (Courtney Volta) sing "I Think I'm Gonna Like It Here." Photo by Suzi Steffen
Sometimes, traditional journalism isn't enough. Or even close to enough.

I stuck to a fairly traditional style for the #theroadtoAnnie article, which was kind of short in any case, but I missed the emotions.

Someone said to me this morning, "I thought, 'You were there for how long, for this?'" He flicked the paper. Um, yeah. Ouch.

That's right, I couldn't do anyone's journey justice in that length. Still, I wish I'd done better. Here was one of my first attempts, edited today.

Things I Have Contemplated During #theroadtoAnnie:
An Essay
If you're in my age group, especially but not exclusively if you're a woman in my age group, you likely know all of the songs to the musical Annie, whether in Broadway or movie form. You probably thought "Hard-Knock Life" was such a funny song when you were a kid, and, especially if you had red hair, you thought that one day, you would play the lead role.

But I learned otherwise during the months of attending Annie rehearsal. I learned otherwise about Annie, and I learned other things as well. I was reminded that journalists have emotions and that the stories we do change us, that those stories can call up our past; that children and young adults have skills and talents and deep discussions and homework, that they need and enjoy talking with mentors who aren't their parents, that they sing Michael Jackson and M.C. Hammer (not kidding) and Lady Gaga and Justin Bieber when they're horsing around offstage; that the adult mentors who help those kids have a calling and a commitment that goes far beyond sentiment.



Photo of Corridor School performance by Todd Cooper

Some of my thoughts (after the jump, if you're coming from the front page of the blog):

Submitted by Suzi Steffen on Mon, 02/23/2009 - 18:51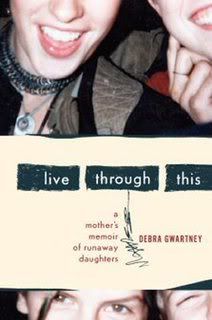 Last week, I reviewed former EW editor and local(ish) author Debra Gwartney's Live Through This in the paper. (I linked to Powell's there, but I'm PRETTY sure the book's available at the UO Bookstore, Smith Family or J. Michael's too.)


On an old blog post, "C. Nelson" disagreed with my review (and accused me of not reading the book).


I did read the book, C. Nelson and others, but I'd be happy for you to share your own reviews* in the comment section!

*Thoughtful reviews of the book welcome, spam or obvious PR deleted, and abuse of other commenters, the author or the reviewer also probably deleted unless it's so brilliantly written that I can't resist leaving it up.