Homeland Security
Submitted by Camilla Mortensen on Wed, 12/24/2008 - 11:18
There's been talk around Eugene lately of the FBI training citizens to keep an eye on activists and protesters. Allegedly at one point a City Club talk was scheduled on the issue, but got canceled. What's going on?
Local independent media/creative filmmakers Picture Eugene interviewed local activist Carol Berg-Caldwell about the issue.
Go to Picture Eugene's YouTube channel for more Eugene videos from CopWatch footage to protest footage. And some other stuff thrown in that is neither fish nor fowl nor good red meat.
Submitted by Camilla Mortensen on Thu, 07/03/2008 - 17:32
I'm not sure how to describe Tim Lewis and the Picture Eugene crew's latest release.
Let's say a Muppet tries to get a press pass to the Olympic Trials while Lewis gets a grand jury subpoena in the Taser case and meets Deb Frisch right before she gets thrown off campus (it's not clear why she's getting kicked off).
It's like Sesame Street goes Anarchist Media. But not really. It's partly fiction, but well, not really. It's um like conspiracy theory, only well Homeland Security really has been, well yeah, here you go:
Part I
Part II has singing kids just like Sesame Street.
And on a more serious note, here's an interview with Lauren Regan about the whole Homeland Security/Pesticide Rally/Taser issue. She describes not only the role of Homeland Security, but the problems with the criminal investigation being done by the same officer (Sgt. McKee) who is also doing the investigation for the Citizen Review Board. You also get to watch Lewis get his grand jury subpoena, which is always a good time.
You can read about it tomorrow in the R-G, but you read it here first …
Submitted by Chuck Adams on Fri, 06/27/2008 - 14:34
Perhaps the biggest star at this week's U.S. Olympic Trials is the Elephant in the Room. Namely, doping. For many athletes, to dope or not to dope is a question that weighs heavily on their conscience. Oftentimes the dopers aren't caught until after their glorious triumphs, cheapening history (in a way). You can add Marion Jones, Justin Gatlin and Floyd Landis to the long list of athletes who thought they could get away with it (and pretty much did) until a single test finally caught them.
Today Tyson Gay, who leads the men's 100m field at Hayward Field this week, said that Gatlin's suspension from the sport was "good for the sport in general." Which sounds dignified enough. But then Gay rattles on, sounding like he's glad a Gatlin-less field will further ensure his Olympic goals:
"Because he's already had his moment. A lot of us are first-time trying for the Olympics, or trying to make the Olympic team, and he's already had his experience, with the gold medal. I think it would be a little unfair and a little selfish of him to take a lot of people's moments
away from them."
Um, so is Gay planning on "having his moment" at Beijing, with or without drugs? We'll see.
The documentary, Bigger, Stronger, Faster, which opens at the Bijou today (read Jason Blair's review of it here), offers further insights into the rationale for doping.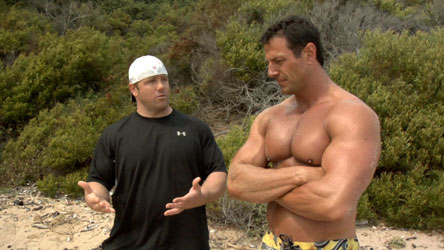 Bigger, Faster, Stronger
For your general information, here is a list of performance-enhancing drugs to watch out for at the Trials and in Beijing this summer:
• EPO, for endurance events
• Ethamivan, a banned stimulant
• Clenbuterol (steroid) for throwing and jumping events
• Stanozolol (steroid)
Here are some of the doping scandals from the 2004 Summer Olympics:
• Greek sprinters and Olympic favourites Kostas Kenteris and Ekaterini Thanou withdrew from their team and from competition because they failed to take drug tests the Friday before the games began. The explanation that they had been involved in a mysterious motorcycle accident, witnessed and attested to by no one, was determined likely to have been a subterfuge, and as of late August 2004, was still under investigation.

• Spanish canoeist Jovino González was found to have in his circulatory system the blood-boosting substance EPO, after he received a surprise pre-Olympic doping test. Although he was scheduled to compete in the Men's Flatwater 500 metres, the Spanish Olympic Committee withdrew him from participation.

• Belarusian high jumper Aleksey Lesnichiy was barred from further competition in the Men's High Jump after testing positive for the steroid clenbuterol. He failed to clear a height in the event's qualifying round. He has assumed total responsibility under the "strict liability" rule after claiming he received the steroid from an illegal cough syrup.

• Russian sprinter Anton Galkin was expelled from the Olympic Games after testing positive for the steroid stanozolol. He had been tested after competing in the semifinals of the Men's 400 metres, where he finished in 4th place.
Read about more scandals from 2004 here.