nudity
Submitted by Camilla Mortensen on Thu, 04/22/2010 - 13:22
Ironically, the day that we publish a gnude gnome on the cover of EW…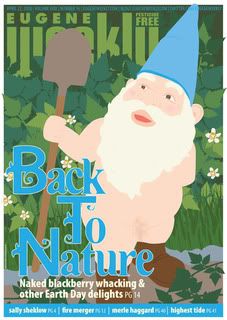 …is the same day the sample endangered species condoms are due to show up from the Center for Biological Diversity. Go Earth Day!
I will not be reviewing said condoms. Partly because they haven't actually arrived yet, and partly because, well, ahem, anyway.
But the not-so-secret news the CBD is trying to bring to your attention is that human overpopulation is the biggest environmental problem we have. According to the CBD overpopulation "has pushed homo sapiens to absorb 50 percent of the planet's freshwater and develop 50 percent of its landmass. As a result, other species are running out of places to live."
Recommending people make less babies as it turns out, is rather controversial. When Andrew Revkin of the New York Times critiqued the media for not writing enough about population growth, Rush Limbaugh responded by recommending that Revkin kill himself.
So the Center for Biological Diversity, in an effort to get you to keep your own attempts at biologically diversifying in your pants, has made the whole thing a little more fun with condoms.
The packaging is cute. Don't know yet if the condoms themselves feature wild animals. Haven't decided yet if that would be cute. Or disturbing. But I will let you know what the packaging encloses once they arrive.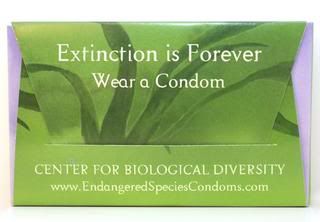 I just wish they didn't have such a lame rhyme for our local species, the spotted owl: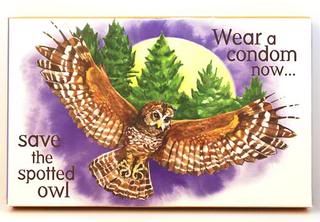 "Wear a condom now. Save a spotted owl," just doesn't grab you like: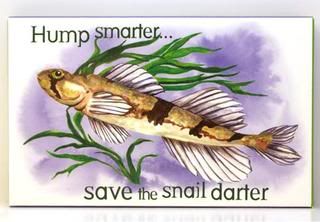 "Hump smarter. Save the snail darter"
Full disclosure: I got a little wine in me at the Public Interest Environmental Law Conference earlier this year and told CBD founder Peter Galvin that I thought the owl rhyme, which I had encountered in an earlier Valentines Day press release, was lame.
Galvin graciously explained that the owl rhyme had to be lame for the media outlets who were too worried about their more austere readers to print something like "Wear a jimmy hat. Save a big cat."
I am now trying to think of gnome condom rhymes. Ideas?
Oh, and for those of you who would like in on the animal condoms action, go here to win condoms for life or here to distribute them.
UPDATE 04/26/2010
The condoms arrived today. The packaging is lovely. So lovely in fact that I keep thinking there are chocolates in there, not rubbers. They kind of remind me of those Endangered Species Chocolates…
Alas the condoms inside are not animal print as I had hoped, just plain old Lifestyles. On the plus side, there's info about each species inside the box when you open it. Nothing like a little biology lesson before sex. Did you know that the burying beetle has lost over 90 percent of its habitat? "Cover your tweedle, save the burying beetle."
Submitted by Camilla Mortensen on Thu, 06/05/2008 - 15:51
We're all naked underneath our clothes, or so the saying goes, but this week it's Barbie and Ken without their clothes on the cover of the EW. If the naked doll bottoms are banned from your neighborhood newsstands, be sure to let us know. Mainly because I'm curious. I mean, it's Barbie. You HAVE to take her clothes off in order to get her out of her "Nurse Barbie" outfit and into her "Cheerleader Barbie" outfit.
I came across, in the course of my research on nudity, one interesting fact that didn't make it into the article — it appears that June 21 is naked hiking day. You honor the solstice "skyclad" or something like that. I also found at least one nude hiker blogger, who also happens to be from the Northwest. Warning: If you didn't like naked Barbie, you really won't like this. He doesn't just hike in the nude, he takes pictures of himself.
If you plan to naked hike, you can go here for some top 10 tips on how to romp through the woods in your alltogether. The advice to put vaseline between your thighs was interesting, but I was perplexed by this advice: "... since clearcuts afford less than ideal scenery, you are not likely to meet any other hikers. I have many times been able to hike and ride my mountain bike nude all day long in clearcuts and only rarely have met anyone out there."
Ok, but who wants to hike a clearcut? Clearcuts are UGLY. But now I am wondering how often Eugene's tree-huggers are running into nude hikers and bikers when they go out to document a clearcut?
But the question is: Where do the denizens of Lane County like to go when they get naked? We hear tell there is a good naked swimming hole out Fall Creek, but never got directions (also it's been kind of overcast, and not prime naked-person weather). So please do tell all.