museum
Submitted by Suzi Steffen on Wed, 01/27/2010 - 22:26
THE BLOG IS BACK!!!
Excuse me. It went down for almost four days,* It was being moved to a new server, and I couldn't access it for a couple of days; when it came back up (on the new server) this morning, I was scribbling this week's cover story like a crazed raccoon, so I couldn't blog.
Two things (I am *so* going to post my interview with Chris McVay tomorrow morning):
1. There's a PICASSO up at the Jordan Schnitzer Museum of Art. And although the PR folk assured me it wasn't just any old Picasso, allow me to tell you that no web photo, even one on a big screen, is anything like the big, beautiful thing itself.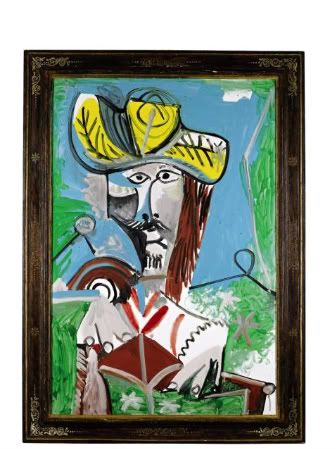 Bust D'Homme, Pablo Picasso, courtesy Sotheby's. (c) 2010 Estate of Pablo Picasso / Artists Rights Society (ARS), New York

See, this is not even right. Look away from the screen, pull up your calendar and make plans to go to the J-Schnitz and see this work. I happened by J-Schnitz director Jill Hartz' office yesterday just after it went up, and she took me up to see it. The painting is HUMONGOUS and completely dominates its little (very secure) room. The colors, the brushstrokes, the confidence (and arrogance!) of the man who painted this ... I was bowled over. Hartz said, "Isn't it wonderful to be part of a museum that can have this painting!" She seemed truly appreciative to the anonymous lender and impressed by the work, which she hadn't seen yet either. So, you know, GET OVER THERE. You can see the "Amazonia" exhibit while you're there.

Read about an exciting theater-fest in Portland after the jump!
Submitted by Suzi Steffen on Mon, 07/23/2007 - 13:57
I left my $$ in San Francisco, and that's just fine.
Main thing is, I am so pumped to blog! (Click on title to read more...)
I just now (OK, a couple of hours ago, for reals) returned from San Francisco, so I have plenty to blog about. But of course there are a few things to do around the office, so before I talk about the San Francisco Theater Festival or the SFMOMA or BART vs. Portland's MAX or why the hell the Berkeley summer visitors center doesn't have wifi, I need to, you know, copy edit. And write some content for this here CHOW! that's coming up.