Eugene Celebration: Saturday Night at the Rogue Stage
Submitted by Chuck Adams on Mon, 09/15/2008 - 15:12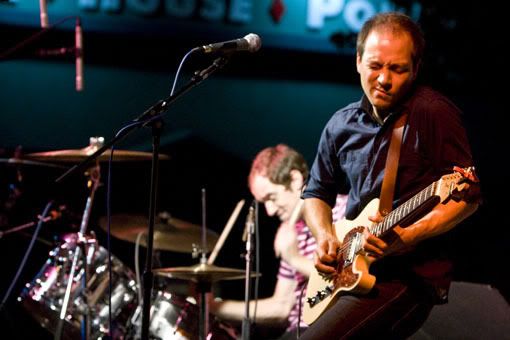 Helio Sequence's Brandon Summers. Photo by Todd Cooper.
A larger (or at least thicker) crowd showed up for earlier act Menomena than Helio Sequence, which was a shame. Sure, Menomena's had its proverbial dick sucked by those with sometimes quixotic tastes in music while Helio's been alternately pissed on and given a passing chance by that same White Male Whale. So it's easy to see why the imbalance was there (and it couldn't have been because Hell's Belles were playing elsewhere, could it?). But this night, Helio brought it while Menomena sucked it.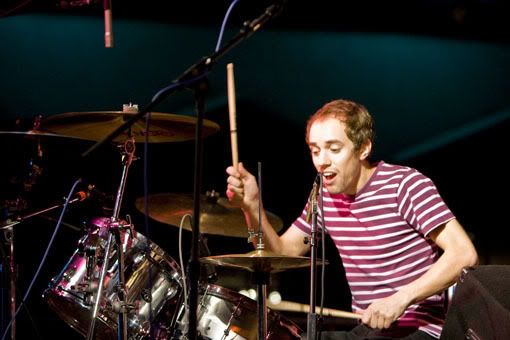 Helio Sequence's virtuoso drummer, Benjamin Weikel. Photo by Todd Cooper.
Perhaps wanting to live up to their billing as a "trance" band, Helio opened with a song off their more trance-y debut album, Com Plex. I think the song was "Sassafras" (but please correct me if I'm wrong). I've always preferred the older, "trance-y" Helio Sequence (sometimes referred to as space-pop) but on Saturday the old songs blended well with the anthemic rock of Keep Your Eyes Ahead. This was music to be moving to, but unfortunately hardly anyone was moving (which is baffling considering the entire stage was a beer garden). There were definitely some movers-and-shakers (especially once they tore into their hit, "Keep Your Eyes Ahead") but it was difficult to go all-out with the dancing when there was enough room for a game of four square in the middle of the pit.
I saw HS play an outdoor gig a year and a half ago (Keep Your Eyes Ahead hadn't come out yet), and Saturday nights' showing was much stronger. Sure, Love and Distance is a hit-or-miss dud, but to hear these two Beaverton dudes keep the wall of sound coming in waves was worth the price of an EC wristband alone. Naturally for this Beatles-influenced band, they ended their set with their ingenious cover of "Tomorrow Never Knows," off of Com Plex. It reminded me that even the Beatles had their anthems and their jams and psychedelic spurts.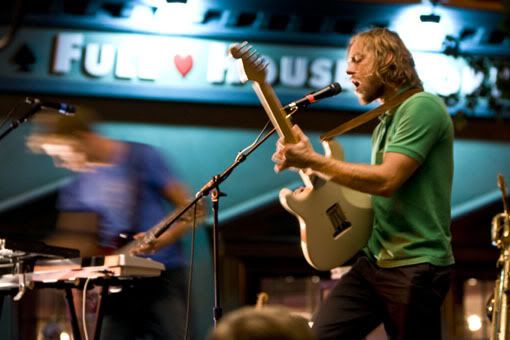 Menomena: All washed up with nowhere to go? Photo by Todd Cooper.