Rev. Jesse Jackson Encourages Student Activism at the University of Oregon
Submitted by Suzi Steffen on Fri, 02/19/2010 - 10:48
Note: This story is by EW intern Kate Loftesness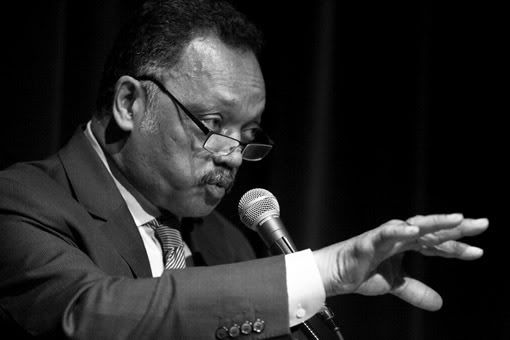 Photo by Dmitri von Klein

Young America Coming Alive
Rev. Jesse Jackson spoke to students, faculty and members of the Eugene community Tuesday at the UO about civil rights legacy and the importance of voting.
By Kate Loftesness


Civil rights activist Rev. Jesse Jackson spoke to a crowd of around 900 students, faculty and community members in the UO's EMU Ballroom at noon on Tuesday.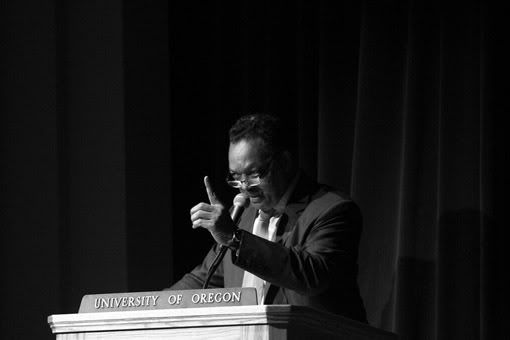 Photo by Dmitri von Klein

Jackson, president and founder of the Rainbow/PUSH Coalition, was a student activist in the Civil Rights Movement and an assistant to Dr. Martin Luther King, Jr. His speech and question and answer session, entitled "With Justice for All: Human Rights and Civil Rights At Home and Abroad," came in the wake of Pacifica Forum hate speech controversy and the vandalism of the UO's LGBTQA office in the EMU.


The line of people waiting for Jackson's speech stretched out of the EMU and down 13th Ave., past Carson Hall. The EMU Ballroom was filled to capacity, including rows of standing-room only space at the back. Other attendees were able to watch Jackson's speech on TV screens in the Fir Room.


Read more after the jump!
Jackson's speech centered around urging students to vote on issues directly pertaining to them, particularly tuition costs and student loan rates, and to do more than vocalize their opinions on issues like Haitian rebuilding and violence in the world.


"Whenever young America comes alive with high consciousness you have the power to change the law," he said, in a melodic voice that often varied its pace and volume.


"You're not just a football power or a basketball power, you are a voting power," Jackson said. "Students who came alive bequeathed you the power to vote here"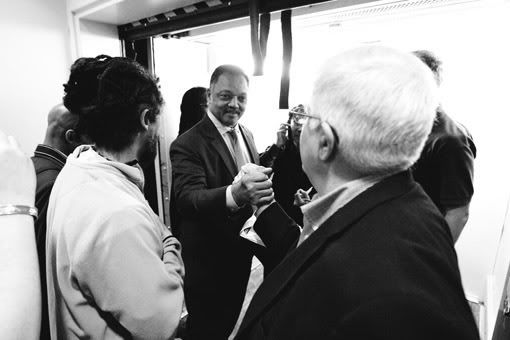 Photo by Dmitri von Klein

Jackson mentioned notable Civil Rights Movement achievements and infamous episodes, like the Rodney King beating in 1991 and Emmitt Till's 1955 murder. Jackson paid particular attention to reviewing all the major voting rights achievements, from women's suffrage and African Americans gaining the right to vote, to lowering the voting age to 18 and bilingual voting.


"If I want comprehensive health care, vote about it," Jackson encouraged at the end of his speech, with the audience repeating his words. "If I want student loans reduced, vote about it. If I want to feed the hungry, vote about it."


Jackson explained that we have the most culturally diverse local, state and national government in history, but it is important to continue voting in this way and to look beyond out borders. He noted that the racial composition of the world is far from having a white majority and he called for international recognition of human and workers' rights and rebuilding Haiti, because "we were part of the downfall."


"Don't be colorblind," he said. "Be color-caring."


Jackson stuck to his ideal of bringing people together, even at the smallest levels. "Ducks and Beavers have one thing in common: We all want reduced interest rates, lower tuition, and a job when we graduate," he said.


The Baptist minister's speech was not heavily laden with religious rhetoric, although, at one point, Jackson prompted the crowd to say "Amen" and offered a modern interpretation of a Biblical parable. He also instructed the crowd to repeat some phrases after him for emphasis.



Eugene Mayor Kitty Piercy and UO President Richard Lariviere speak with Jackson after the President's Leadership Symposium on Feb. 15. Photo by Leah Olson

The UO's Holden Leadership Center, Multicultural Center, Black Student Union, Greek Life and the Office of the President all contributed to bringing Jackson to campus. He spoke at the invitation-only President's Leadership Symposium Monday night and traveled to Portland on Wednesday to address the Aaron Campbell police shooting.
And here's audio of the speech, recorded, edited and produced by Dmitri von Klein: