University of Oregon Mills International Center Art Exhibition for the Winter Blues in Eugene By Rachel Coussens
Submitted by Suzi Steffen on Wed, 02/03/2010 - 16:44
Artist Marina Hajek with her sculptures.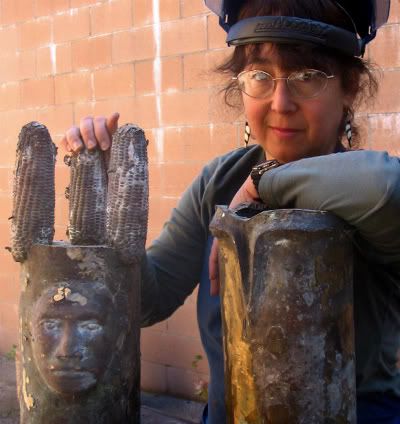 Cure the Winter Blues
By Rachel Coussens
Images courtesy of Kelly Tavares
Do not settle for having the winter blues, have the greens, yellows and reds too. Visit the Mills International Center Art Exhibition for the Winter Blues... and Greens Yellows Reds… show going on now until March 19th. View art from seven different artists including Samuel Becerra, Jean Foss, William Golino, Marina Hajek, Joan Miligan, Kelly Tavares and Jessica Zapata.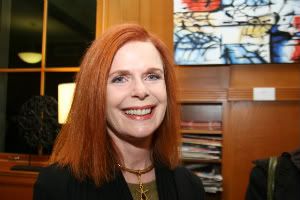 Artist Joan Miligan at the January 22nd opening reception.
"By community demand, they (Mills International Center) opened the idea of a gallery," artist and art coordinator Kelly Tavares says. "The intent is to put everyone together, including people outside the university." The show features artists from Mexico, Brazil, Guatemala and America giving a cultural perspective to the pieces. "We brought both art and outside experience to a university activity," artist Joan Miligan says.
Jessica Zapata creates photographs that focus on doors and windows from the colonial times in Mexico. "With my photos I hope I can show what you can learn and see in Mexico. You can learn about the life people had from the past," she says.
"My work is perfect for a show about lighting up winter gloom," Miligan says. He paintings encompass light and energy that capture more of a summer season. "Everything I paint is an expression of who I am and who I want to be," she says.
Artist Marina Hajek creates clay sculptures that she wants to use to challenge people to think. "It's a way for me to express myself. I grew up in a society that was afraid of expressing themselves," she says of Guatemala.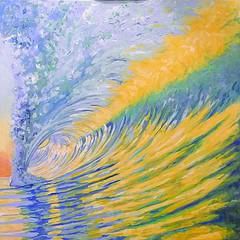 Painting by Joan Miligan
"When you surround yourself in other cultures, ideally, you are hungry to understand and appreciate what is enjoyable to you," Miligan says. According to Tavares, the Mills International Center plans on putting on one art exhibit per academic term. The Winter Blues…and Greens Yellows Reds… will be showing until March 19th at the Mills International Center located in the Erb Memorial Union on the University of Oregon Campus.