The Road to Annie: Upstart Crow Begins Rehearsals
Submitted by Suzi Steffen on Mon, 01/04/2010 - 19:29
"I Know It Sounds Complicated, But When We Get Into It,
You'll Find That It's Really Complicated."
I'm at Upstart Crow Studios, where executive director (and director of this production) Eularee Smith has begun the process of giving information to the parents and the kids in the double cast of March 6-7 & 12-13's Annie.

As the performing arts editor for the Weekly, I don't review children's theater, and I've been thinking about following a performance from auditions (which ran before Christmas, and which I tweeted a bit) to the final show. How did I pick this one instead of, say, a school play? That's for another blog post, but essentially, a convergence of time and opportunity and a staff (of Upstart Crow) that tweets and came to my attention with press releases and Twitter.

Read more following the jump!

I'll be at rehearsal at least once a week (it's twice a week), and I'm interviewing the crew, staff, some of the parents and the cast as we go on. Eugene has another children's theater company, The Rose Children's Theatre, a place several of my friends' kids have been heavily involved, and we'll also find a way to cover what Rose is doing right now (Guys and Dolls Feb. 5-7 and 12-14; auditions for what they call a "squeaky-clean" middle-school Grease [yikes! What's left?!]).

Apparently, 88 kids will be involved in this production of Annie, and we just got word that "a real dog" will be onstage for the performances as well. Smith said, "I know it sounds complicated, but when we get into it, you'll find that it's really complicated."

I'm trying to get some photos and do some video as well, so keep an eye out, and I'm tweeting it with the hashtag #theroadtoAnnie.

Tonight, kids are asking questions ranging from "What should we wear to rehearsal?" (A: Comfortable clothes, theater shoes for dress rehearsals and performances) to "So you'll have the cast all set by Thursday?" (from a young woman who clearly wants to play one of the Boylan Sisters [see below]; A: No, by next Monday).

Everyone will sing, Smith says, and musical director Tim Wilcox says a 20-piece orchestra ("All volunteers, and there are plenty of places open") will accompany the children at performances.

Smith has basically just said that the kids need to listen to her and that if they don't, she'll hold up a poster and say, "Oh, hey, wait, I'm the director, not you." Laughter around the room, but you just KNOW both kids and parents will test that one out.

(I just introduced myself, and they clapped. Awwww! Oh wait, immersion journalism = challenges with getting too close to the story. Keep me honest, Weekly readers!)

The cast on stage at Upstart Crow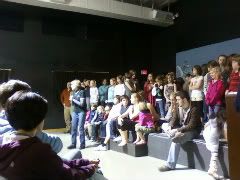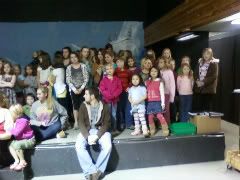 As you can see, the cast more than covers the stage. Next post I do, I'll introduce the entr'acte idea and groups. When Smith introduces this big ol' cast, some of the kids aren't here. I'll post a cast list when it's finalized, which may be a bit in flux; some people are dropping, some adding ... interesting. The staff must be flexible to handle the variety of issues that come up during the rehearsal process.
I'm interviewing Smith on Wednesday, and either I or my collaborator Amanda Burhop (our former intern!) will post during or just after Thursday's rehearsal.
A YouTube clip of the song "You're Never Fully Dressed without a Smile" from the 1982 movie (which, er, I might have seen 12 or 13 times as a child):