Preview: Evan Wolfson and Jeana Frazzini: Start the conversations and seal the deal on marriage equality
Submitted by Suzi Steffen on Wed, 11/04/2009 - 17:29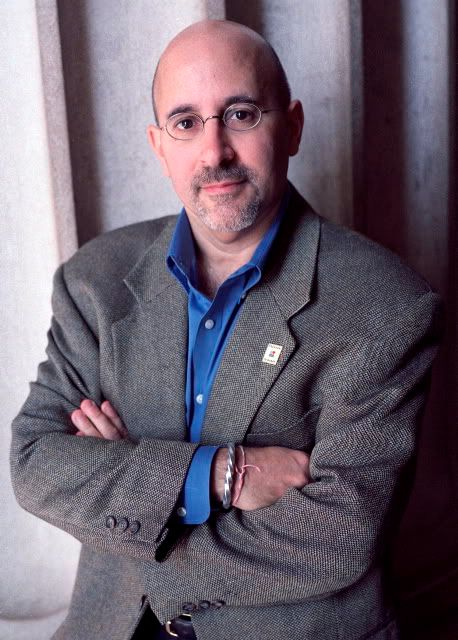 Image of Evan Wolfson by Jeff Shang, courtesy Freedom to Marry and Simon and Schuster, publishers of Why Marriage Matters.
Earlier today, I spent some time speaking with Freedom to Marry founder/exec director Evan Wolfson and Basic Rights Oregon exec director Jeana Frazzini.
Wolfson's on a mini-Oregon tour to read a bit from his 2004 book Why Marriage Matters but more to support BRO's recently announced push for Freedom to Marry, which BRO and other folks hope will culminate in a ballot initiative undoing the harms of 2004's ass-ugly Measure 36.
Their message, repeated several times during our half-hour conversation, is this: People in same-sex couples need to talk about how the inability to get married affects their lives. Frazzini told a particularly moving and interesting story of her own about talking to her partner's brother (a conservative Republican Portland police officer) about supporting marriage equality. (More on that tomorrow.)
Obviously, BRO, which is a purely Oregon-based organization (though I think there's some outreach into SW Washington? I'll find out tonight for sure), is working on a state level. I asked Wolfson about the state-by-state efforts — for instance, the reasons that Lambda Legal took on a case in Iowa that ended up giving same-sex couples equal marriage rights there, and we also talked about the idea of Washington State's incrementalism approach (that's a bit of an old link, and it doesn't totally explain it - more later).
We talked a lot about how and why the guy who signed the Defense of Marriage Act into law when he was president publicly changed his mind.
We talked about DOMA — what Wolfson called, several times, "the so-called 'Defense of Marriage' Act" in such a way that the air quotes were visible — and how it could be overturned. On the one hand, Wolfson talked about the Respect for Marriage Act that would overturn DOMA.
Wolfson talked more about changing hearts and minds on that state-by-state basis, changing the entire atmosphere, so that it would be easier for both Congress and the Supreme Court to make decisions that would support marriage equality (I verified with Wolfson that he was talking about Lani Guinier's theory of demosprudence.)
All of this and more as a Q & A on the blog tomorrow! Tonight, I'll be liveblogging Wolfson's speech at the Eugene Public Library, starting at about 6:05 pm.
KLCC's Jes Burns interviewed both of them just before I did, and the audio link should be up here soon.