Coming soon: Oregon Shakespeare Festival interviews, photos, video and more
Submitted by Suzi Steffen on Tue, 04/07/2009 - 11:56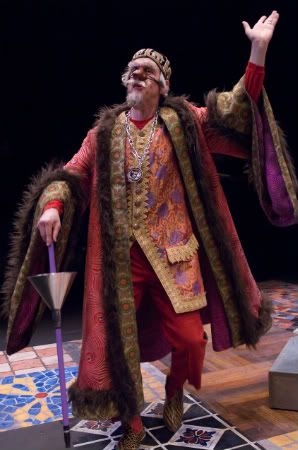 Pantalone (David Kelly) is overjoyed at the prospect of receiving more gold during The Servant of Two Masters at the Oregon Shakespeare Festival. Photo by Jenny Graham.
Yo, OSF-lovers!
I've been asked to blog this week at Stage Directions Magazine's new online theater community, TheatreFace, about the Oregon Shakespeare Festival and Oregon theater in general.
If you're a theater person, you might want to join TheatreFace; it's free and, I think especially for designers, hooks you into an international community. You can add photos and have your own blog, join groups and more. If you're interested, join here. (Nope, I'm not getting paid to shill for TheatreFace, though I am getting paid a bit to blog for 'em this week.)
If that's not your thing, however, you can also check out the posts when I repost 'em here this weekend (when the exclusive time on TheatreFace is up).
My first post was a Q&A with Tracy Young, the director of the just-opened Servant of Two Masters. A YouTube clip of Young talking about it is below.