Leebrick Press Conference: Downtown Arts Development!
Submitted by Suzi Steffen on Wed, 03/18/2009 - 12:41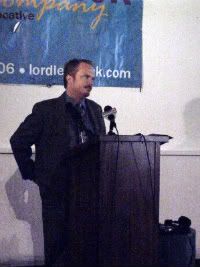 The press conference for the Lord Leebrick announcement is about to begin. I can see Leebrick board pres Don Van Houten, actors Rebecca Nachison & Paul Calandrino and director Carol Horne Dennis. Here comes the Leebrick's artistic director, Craig Willis (that's Willis in the photo.*).
Updates as we go on after the jump.
Willis thanks Jon Ruiz (City manager), George Brown (city councilor), and some others.
Willis is quite emotional about thanking people without whom this would not have been possible: Randy Lord and Chris Leebrick, to much clapping, and he adds Richard Leebrick "because he had a lot of sweat equity."
"It takes a lot of gumption to do what Randy and Chris set out to do. It's miraculous that their theater survived and will continue to survive."
Lots of media here. Clearly a bunch of TV stations. Hult Center Exec Director Karm Hagedorn is here, R-G theater reviewer Richard Leinaweaver, Library Director Connie Bennett.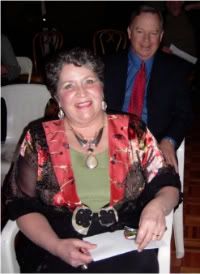 Photo of DIVA board pres Randy Stender sitting "shipboard style" with DIVA dir. Mary Unruh
Willis quotes the EW's many Best of Eugene write-ups. (Hey! I think I got quoted there saying that the Leebrick had "outsize ambition," which I guess isn't so outsize anymore.)
Now: "I"m here to essentially announce that Lord Leebrick Theatre Company thanks to the generosity of angel benefactors who choose to remain anonymous have ... " worked out a deal with Connor & Woolley "to purchase two tax lots that run from DIVA to Shaw Med."
WILD clapping.
"I have no interest in running a community theater. I love community theater, but I also love professionalism. I believe artists deserve to be compensated for their work, and I believe in the kind of work that can happen when you have professionals working together."
"My goal was to become the best theater company between Portland and Ashland. We've achieved that, and now I don't see any reason why we can't be one of the best theater companies in the United States."
Willis gives announcement about DIVA buying its own tax lot, to more clapping, and murmuring.
His vision talks about dropping kids off for classes and then going to Saturday Market or running errands at the library, post office or bank. "Did I mention the covered parking?" he asks, and talks about the upstairs, which has a conveyor belt from the double doors on the alley and plumbed bathrooms upstairs (as well as downstairs).
"This is a cash purchase," he says, and everyone gasps and claps. The Leebrick will outright own the building. "We will ask you to join in a capital campaign where we will continue to nurture students and cultivate audiences for years to come."
He adds, "It is our intention for as long as it's practical for the theatre and the Tango Center to keep them in this building. There will probably come a time when it's in their best interest to acquire a building of their own, but until that time, we hope we can be good landlords for them."
City Manager Jon Ruiz
Congratulates Leebrick and DIVA and mentions Wally Graf and his redevelopment project.
"This can be a 24/7 gathering place for people to come down and really celebrate the city experience," Ruiz says. "You will find that the city is a willing and able partner to provide a lot of things as you ease through this time period. The staff are on call and ready to help as we would with anyone who comes to develop this area. We will provide 24-hour turnaround and same-day inspections, no-fee consultations for this project and others downtown," he says.
"The downtown is the one place in this community where we all share in common, the one place where we can all come and enjoy a variety of things."
Now up: Mary Unruh, director of DIVA.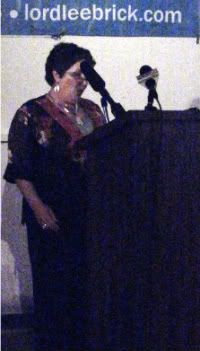 "Besides being short, I'll be brief. We've become Eugene's living room, blurring the edges between traditional and experiemental, written and performance and media-based art."
Like Willis, Unruh thanks Connor and Woolley for keeping rents low and allowing DIVA to grow.
She thanks supporters and volunteers, talks about havin 600-1,000 people each First Friday. "Between the two of us, we think we can energize this block!"
Questions
R-G person (whom I don't know) asks how much paid and when deal closed.
Willis: Purchase price 1 million, 50,000 dollars and will sign tomorrow and close on Friday. Loan of $350,000 which will come due on closing of sale to DIVA or at period of time in the future should the DIVA deal not happen.
Randy Stender, pres of DIVA board, says "We're in the process of putting together investors to buy it."
Journalist asks, "When will you start producing here?"
Craig Willis says, "We have a meeting with the city to see what we'll be able to accomplish."
Plan to move offices and rehearsal spaces NEXT MONTH. Expect to produce in fall of 2010, though might do something else here in the meantime.
R-G guy (sitting next to me, not Bob Keefer, who ends up being there anyway and is asking Mary Unruh questions as I walk away) asks what inspired the purchase, was it the Tango Center publicity?
Willis says yes. Then he says he respects the Tango Center but was frustrated and says "I should acknowledge there are dreams that are being fulfilled here, and there are dreams that are being ended."
A TV guy (I am so not clued in to the TV people; tall white guy. I know that's mysterious in this town.): Close your eyes and tell me what you see in the fall of 2010.
Willis: Our plan is to sit down with architects and designers to see what it will look like in 25 years so that choices we make now and months from now will lead to that building. "Purchase has literally been in works for 6 days, so it's a little premature!"
R-G: Will Shaw Med stay?
A: Yes, they have a lease through 2010. Having additional revenue streams is never a bad thing for a nonprofit.
Barbara (?): Will you expand educational program as much as you expand the space?
A; This is the 6th building we have seriously looked at, the 4th we have made a purchase offer on in 5 years. Came close to a purchase in not-too-distant past for a building that would be a quarter the size with the asking price only $100,000 less than price we're paying for this.
The wireless cut out here, but that was luckily one of the last questions.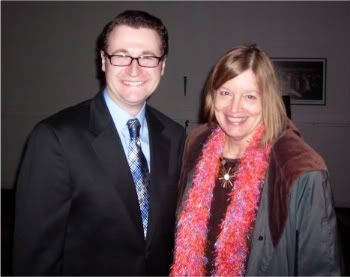 I talked briefly with board VP/incoming pres and library director (as I said above) Connie Bennett and the Leebrick's brand-spankin'-new general manager, David Mort (pictured above). Mort said "I have to get back to work!" and Bennett, who had to run to a meeting, said it was very exciting for downtown.
Hult Center director Karm Hagedorn said she hadn't known about the deal ahead of time but that she thought it was exciting.
The R-G and teevee people were hogging everyone else, but that's OK; I'm about to give DIVA board pres Randy Stender a call so we can finally chat about this.
*Please excuse crappy photos; was blogging and didn't have good camera, plus the Tango Center is Very Very Dark.