Oregon Shakespeare Festival: Suzi's Reviews of MEASURE FOR MEASURE & LANGUAGE ARCHIVE
Submitted by Suzi Steffen on Tue, 03/01/2011 - 13:50
As promised, my two reviews. I don't know when these will run in the paper, but here they are pre-paper. Anna Grace also reviewed two of the OSF shows, I believe for this week's paper as well.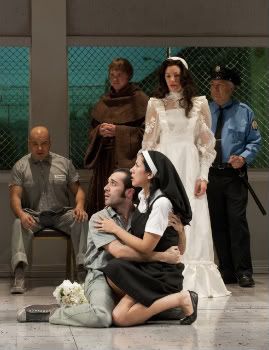 Claudio (Frankie J. Alvarez) and Isabela (Stephanie Beatriz) are reunited and await the Duke's verdict (Ensemble). Photo: David Cooper.
Corrupting Power

Anthony Heald has won some plum parts in recent years at the Oregon Shakespeare Festival — Shag/Shakespeare in Equivocation and Shylock in last year's Merchant of Venice. The actor finds himself once again at the center of a thickly layered, ambiguous play, this one about the nature of power and religious belief.

Shakespeare wrote Measure for Measure, the festival's Illuminations guide explains, just before he began writing the four major tragedies (Hamlet, Othello, Macbeth, King Lear).

Certainly the script flirts with both comedy and tragedy as Heald's Duke of Vienna ("an American town," the description reads in the playbill) pretends to leave town just to find out what his deputy, Angelo (René Millán), will do with his power.

Turns out Angelo doesn't know much about mercy. The town's full of pimps, whores and kids who sleep together before they're married, and Angelo's determined to clean it up.

Here, you might want to know that the setting for the play is 1975, and the city of Vienna sits near the Mexico/U.S. border. The plot includes the Duke disguised as a friar; the attempts of Isabela, a novice nun (Stephanie Beatriz, quite good in a role tremendously different from last year's Maggie the Cat), to free her brother Claudio (Frankie J. Alvarez) from the death sentence Angelo gives him for getting his girlfriend (Alejandra Escalante) pregnant; and a bunch of side plots involving Lucio (Kenajuan Bentley, who's sublimely masterful in the comic role), Mistress Overdone (Cristofer Jean) and Pompey (Ramiz Monsef, also quite good).

The self-proclaimed incorruptible Angelo finds himself intensely attracted to Isabela, and he tells her if she gives him her body, he may save her brother's life. Can the Duke save everyone? Should he? And what about his own weaknesses? Go to the messy, multi-layered, complex production and let Las Colibri — a mariachi band – and Clint Ramos' set transport you to the halls and brothels of power, and discover the answer for yourself.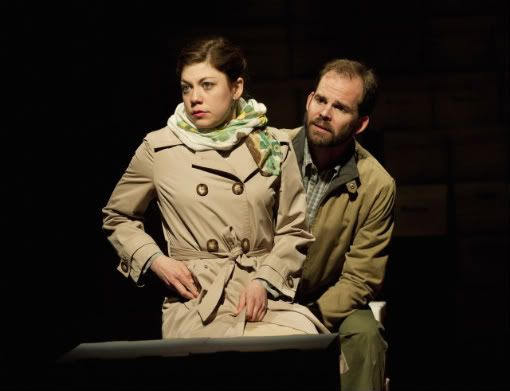 George (Rex Young) implores Emma (Susannah Flood) to return to the language archive. Photo: David Cooper.

What Can't Be Said, What Must Be Said

Dead languages pile up and spill over the set of The Language Archive, each towering stack of boxes threatening to bury their archivist in the tapes and transcripts of loss.

In Julia Cho's recent play, men and women can't communicate and can't quite figure out why. The script mixes funny, touching, realistic, heartstring-tugging, clichéd, whimsical and absurd in a two-act package that uses irony as a blunt weapon (language archivist George, played with a smart sweetness by Rex Young, speaks many language but can't communicate with his wife — get it?) but that often redeems itself through painfully, awkwardly tender moments.

The plot as such consists of yearning from George, his wife Mary (Kate Mulligan, who's marvelous) and his besotted assistant Emma (Susannah Flood, whose gawky/cute mannerisms work well for this character). Add a bit of the "our elders from faraway villages aren't perfect but impart wisdom to us" trope, as the last two speakers of Elloway (Richard Elmore and Judith Delgado) find meaning at the end of their lives and the life of their language; mix in a few set pieces in train stations, bakeries and language classes and let rise.

Delgado, a newcomer to the festival, stands out as the language teacher, but the entire cast compels a surprisingly strong warmth, wringing it from their characterizations rather than the script itself. Still, what with the occasional poetic flight of fancy from George, a marvelous smell (how did you cue that, OSF?) at just the right time, jokes about the Dutch facility with languages and the palpable sadness underlying every bit of the show, The Language Archive satisfies for a couple of hours in the immediacy of the New Theatre.