Opening Weekend at the Oregon Shakespeare Festival - Friday & Saturday
Submitted by Suzi Steffen on Sat, 02/26/2011 - 11:18
Why hello there, Eugene!
Anna Grace and I are at the opening weekend of the Oregon Shakespeare Festival.

I believe reviews of the four plays will be in the paper on March 3, but I'll post mine here ASAP as well.

Ashland had a freak winter storm — and I mean it was ONLY in this area; it started at milepost 35 — just as I was driving in yesterday, and that has made the streets somewhat treacherous (I wiped out and watched others wipe out as well), but it's also lovely and sunny and bright with snow on the hills and mountains around Ashland. Despite the stock photo from the festival, there are no roses just now.

The festival's media relations person, Amy Richard, told me yesterday that she couldn't remember it ever snowing on opening weekend. As a former Midwesterner, I realize that snow in February might not sound OMG CRAZEEE, but in Western Oregon, unless you're up in the mountains, snowstorms don't happen that often. So anyway, winter wonderland-ishness has made Ashland even cuter than it usually is.




Claudio (Frankie J. Alvarez) entreats his friend Lucio (Kenajuan Bentley) to go to his sister. Behind him, his pregnant fiancee Juliet (Alejandra Escalante) waits with the prison guard (Tyrone Wilson). Photo: David Cooper.


Look like a '70s cop show? That's right: It's Shakespeare.
Last night, I attended Measure for Measure, directed by OSF Artistic Director Bill Rauch. I've found Rauch's direction at the OSF somewhat uneven — liked his Two Gentlemen of Verona, thought the Romeo and Juliet was adequate at best, loved Clay Cart (though Anna certainly did not) — but the Music Man of 2009 and last year's Hamlet pointed the way for this production of Measure for Measure, which surprised and delighted me almost from beginning to end. The strolling mariachi band (all women, in case you were wondering), the splendidly flashy performance of Kenajuan Bentley, the understated but powerfully appealing "good girl" played by Stephanie Beatriz (Maggie in Cat on a Hot Tin Roof last year; cloistered goodie-goodie apprentice nun this year ... whoa) and just so much more — it was both spectacle and a thickly layered, emotionally complex piece. I'll get to Anthony Heald's Duke in the review.
One more picture first: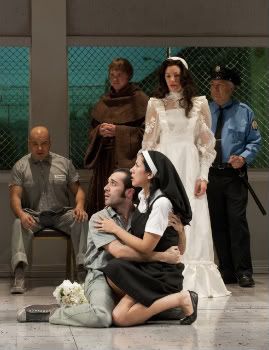 Claudio (Frankie J. Alvarez) and Isabela (Stephanie Beatriz) are reunited and await the Duke's verdict (Ensemble). Photo: David Cooper.
We head off to To Kill a Mockingbird this afternoon (Anna's just getting into town as I type this) and Imaginary Invalid tonight. You can follow me on Twitter for more frequent updates, but I'll also try to post some pix/thoughts between the two plays later today.