Wyden
Submitted by Camilla Mortensen on Wed, 09/01/2010 - 14:13
And the press release of the week award goes to: the National Republican Senatorial Committee (NRSC).
It seems the NRSC (that would be the only political committee solely dedicated to electing Republicans to the U.S. Senate) doesn't like Sen. Ron Wyden's new ad.
The pitch in the ad is that Wyden isn't just any old DC senator. He's different. He's still in touch with Oregon. The ad shows several men on a park bench, each reading a newspaper. The first three men are reading The Washington Post, but Wyden's reading The Oregonian, The Bulletin, The Mail-Tribune or the The Register-Guard, depending on what part of the state you're watching from (now if he was reading EW, we'd be really impressed, but that's asking a lot).
The NRSC apparently disagrees with the premise that Wyden's still got his heart in Oregon. It says in today's press release:
Despite his claims that he is 'like Oregon,' it's clear from Ron Wyden's record that he has simply lost touch with his constituents during his 14 years in Washington. Senator Wyden is a career politician who has championed a reckless economic agenda that has driven our national debt to a staggering $13 trillion and failed to create jobs as the Evergreen State's unemployment has skyrocketed to 10.6 percent. Like the rest of his out-of-touch rhetoric, Senator Wyden's new ad simply doesn't match reality.
Seeing as that Washington State, our neighbor to the north, is the Evergreen State, and Oregon is the more dubiously named Beaver State, and seeing as that Wyden's a Democrat from Oregon … we're actually ok with him not being in touch with the Evergreen State.
Dear NRSC next time maybe fact check your "statement and fact check," okay?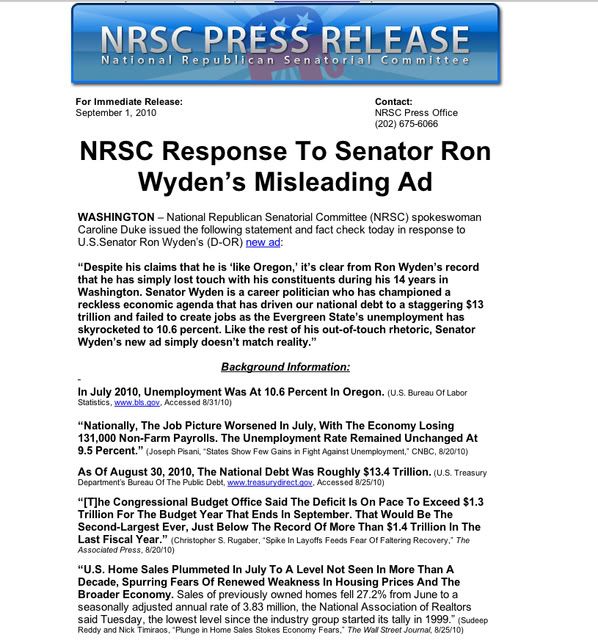 Submitted by Camilla Mortensen on Tue, 02/23/2010 - 13:45
Have the popular efforts to preserve the section of Oregon's coastal rainforest known as the Devil's Staircase (aka Wasson Creek) gone off track?
Oregon Wild, one of the groups involved in the effort, has put out a video saying that Congressman Peter DeFazio and Sen. Ron Wyden have wandered off the trail and need some prodding to work to pass Wilderness legislation this year to protect the area.
For more information, check out Oregon Wild's petition.