Cat on a Hot Tin Roof
Submitted by Suzi Steffen on Wed, 03/03/2010 - 12:13
These reviews will appear in the March 4 Eugene Weekly. Suzi, not surprisingly, has more to say than we had room for and will be posting some extra blog bits about 'em. Also, look for reviews of Well and Pride and Prejudice later today on the blog, and in the paper March 11.



Brick (Danforth Comins) rebuffs Maggie's (Stephanie Beatriz) attempts to draw him into conversation. Photo by David Cooper

OSF's Opening Salvos Resonate
Get tickets now for these two classic, strong plays
By Anna Grace and Suzi Steffen

We attended four plays during the opening of the Oregon Shakespeare Festival's 75th annivesary year. The two reviewed here were not only the best of the weekend but some of the best plays the two of us have ever seen. We'd urge you to get tickets soon (off-season tickets are 25 percent cheaper than summer tickets … hint, hint).

Sizzlingly Striking Cat
by Anna Grace

"Bravo! Bravo!" yelled the man to my left as he leapt to his feet, and that was only when the curtain swiveled around for intermission. OSF's near perfect production of Tennessee Williams' iconic Cat on a Hot Tin Roof deserves his praise.

Maggie the Cat's desperate play for self preservation and Brick's angst about a deep male friendship may belong to the Mississippi Delta of 1955, but the struggles of power, sex and unrequited love that permeate a family are timeless. In this slightly revised 1974 version of the play, Williams is relentless, exposing anguish, shame and fear until audiences are acutely uncomfortable but powerless to look away.

Danforth Comins is extraordinary as Brick, able to move, speak and even sweat along his brow and upper lip like an alcoholic on a binge. Stephanie Beatriz is equally satisfying in the role of Maggie the Cat. Big Daddy (Michael Winters) echoes Maggie's scrapping, passionate nature. Further cementing this exceptional show are Kate Mulligan and Rex Young as Mae and Gooper.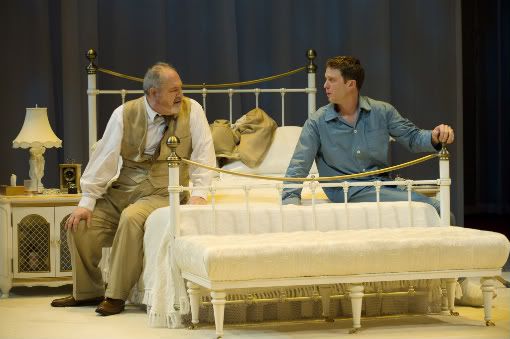 Big Daddy (Michael Winters) and Brick (Danforth Comins) finally have the conversation they've never had. Photo by David Cooper

All action is intentionally set in Brick and Maggie's bedroom on the Pollitt plantation, symbolizing the absence of boundary between private and public in a family. Brilliant designer Christopher Acebo further plays on this by pushing a circular thrust out into the seating, and surrounding it by two layers of sheer white curtains in which characters can eavesdrop or escape. Thus is director Christopher Liam Moore aided in his endeavor to haul his audience along with his characters into the tense bedroom and onto the "hot tin roof" where pain and frustration are laid raw.

Cat on a Hot Tin Roof runs only through July 4 at the Bowmer Theatre.





Hamlet (Dan Donohue) contemplates the ghostly vision of his father. Photo by David Cooper

Hipster Hamlet
by Suzi Steffen

Playing Hamlet must be one of the the most challenging and the most glorious opportunities for a Shakespearean actor. Dan Donohue's skinny-jeaned, tight-T-shirted Hamlet exhibits a sense of humor and a distanced self-awareness that doesn't quite let him anticipate the consequences of his actions. He's fallible, snarky, wounded and full of contradictions; he's an urban man brought reluctantly home from the city to deal with family issues he'd rather not face at the ancestral castle.

OSF Artistic Director Bill Rauch, also the director of Hamlet, and Donohue worked together closely to create this modern version, where the King of Denmark's castle guards wear SECURITY on their uniforms and shine powerful flashlights from their automatic weapons. Christopher Acebo's multi-door and movable-wall set creates the sense that Hamlet feels trapped despite the many means of escape.

Donohue inhabits Hamlet so fully, breathes the lines so well, that even those solilioquies filled with famous aphorisms and quotes seem natural, proceeding from character. He's such a graceful actor too that he beautifully dances the American Sign Language he employs to talk to his father, Old Hamlet (Howie Seago, the Deaf actor who was in Music Man last year).



Hamlet (Dan Donohue) suggests to Rosencrantz (Vilma Silva, right) and Guildenstern (Jeany Park) that his uncle has summoned them to Elsinore. Photo by David Cooper

Richard Elmore's normal spluttery ways fit spluttery old Polonius well, and it's easy to see his kids, hippie gardener Ophelia (Susannah Flood) and bearded indie rock dude Laertes (David DeSantos), needing their space. On the other hand, Jeffrey King doesn't give Claudius creditable motive; the usurper king seems vicious and vengeful, true, but without affection for Gertrude (Greta Oglesby, a wonderful actor directed to be too passive in this role). Armando Durán is miscast and badly costumed as Horatio; we don't see his loyalty to and love for his friend until far too late.

The Player King (Ramiz Monsef) and his band, especially the Player Queen (Khatt Taylor), give the play within a play a lyrical, driving performance, the beat of iambic pentameter and the beats of hip hop melding into a new, intense sound. Donohue's incandescent performance deserves repeat viewing, as does this flawed but gorgeously stunning Hamlet.

Hamlet runs through Oct. 30 at the Bowmer Theatre.
Submitted by Suzi Steffen on Sat, 02/27/2010 - 12:39
Hey, haven't I been saying for years that people should take the backstage tour at The Oregon Shakespeare Festival?

The Oregonian's classical music critic (NO, I don't know why he came down with theater critic Marty Hughley, whose name, by the way, I finally know how to pronounce, thanks to Stabler) David Stabler thinks that's a great idea too:
Behind the scenes at Oregon Shakespeare Festival
The OSF doesn't seem to have any videos about Cat on a Hot Tin Roof, which we see at 1:30 pm, but here's a photo with mostly naked Danforth Comins:


Maggie (Stephanie Beatriz) tries to make some connection with her husband Brick (Danforth Comins). Photo by David Cooper


And there is a video about adapting Pride and Prejudice for the stage.


Here you go!